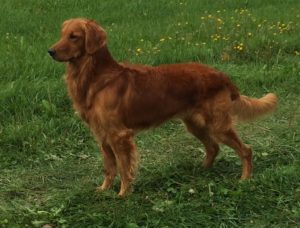 Above left is Porjay's Serendipity (aka Sera) and above right is Firemark Gunsmoke's Lawman (aka Dillon) QA2, MH, WCX.  These dogs had a rendezvous on February 17th & 18th and we expect puppies on or about April 21, 2018.
Although Sera has not competed in AKC Hunt Tests, she has been my hunting companion for ducks and geese.  She has also worked in several pheasant shoots and has demonstrated her tenacity in retrieving live, "nasty" pheasants.  Sera is one of our more lovable (can not seem to get enough cuddling) Goldens and does not enjoy being away from where the action is.  Sera has two siblings that completed their Master Hunting titles when they were less than 2 1/2 years old.  If all goes as planned, Sera will be competing in AKC Hunt Tests later in 2018.
Dillon is an accomplished dog in AKC Hunt Tests, Field Trials, and especially enjoys the "real" hunts.  Dillon was born as a California dog and migrated (legally) to Vermont as a puppy.  He is a typical Golden that can never get enough attention, and despite his size, enjoys being a "lap dog".  His most recent accomplishment was to win the 2017 Open Stake at the Golden Retriever Club of America National Specialty event.
All puppies have been sold.  New homes located in Pennsylvania, Connecticut, Vermont, Massachusetts, & Maine
PUPPIES ARRIVED JUST AS PLANNED (April 21, 2018)
Pictured below is Sera with her 8 pups (6 females & 2 males)